Yacht Charter from Lefkas
Here at Sun Yachting Greece we do our best so you can have the perfect yacht charter experience. We offer charters with yachts in key bases all over Greece.
One of those bases is Lefkas. A yacht charter from Lefkas is preferred by a lot of tourists from all over the world. You can find a yacht charter from Lefkas fitting your style of vacation as we can offer yachts, from bareboat or skippered sailing yachts and catamarans to luxury fully crewed yachts.
The Ionian Islands offer calm waters and friendly winds so a Lefkas yacht charter is a top choice for sailing enthusiasts on vacation.
One of the most popular destinations for summer holidays, Lefkas attracts thousands of tourists every year.
Part of the Ionian Islands located on the North West part of Greece, Lefkas is a unique island since it is accessible by car. It is connected to the mainland by bridge and it is a 30min drive from Aktion International Airport.
Lefkas main attractions are the beaches. Often referred as the "Caribbean of Greece", in Lefkas you can find white sandy beaches with turquoise waters set in beautiful natural landscapes.
One of the best beaches, not only in Greece, but in Europe is "Porto Katsiki". A huge white cliff provides the setting for a beautiful sandy beach and the deep blue waters of the Ionian Sea. A stunning landscape full of wild natural beauty. On top of the stairs, leading you to the beach, there is car parking, bars and canteens.
Porto Katsiki is located on the south part of Lefkas, it is a bit of a long drive from Lefkas Town (44km). Thankfully, for the less adventurous it is accessible by taxi-boats from the nearby villages of Vassiliki and Nidri.
Of course Lefkas offers a variety of beautiful beaches suited for every taste. Most notable would be beaches Egkremni and Kathisma.
Alternatively you can also enjoy Lefkas famous natural beauty by visiting the Dimosari waterfalls. They are located in the heart of the island a few kilometers from Nidri village.
The walk to reach the waterfalls is about 20 minutes and the path is well maintained. Alongside the hiking trail a small stream flows and there are a few plane trees to provide some shade.
At the end of the trail you will find the 15 meter waterfall surrounded by large rocks and a naturally formed small pool with ice cold waters for hikers to cool down.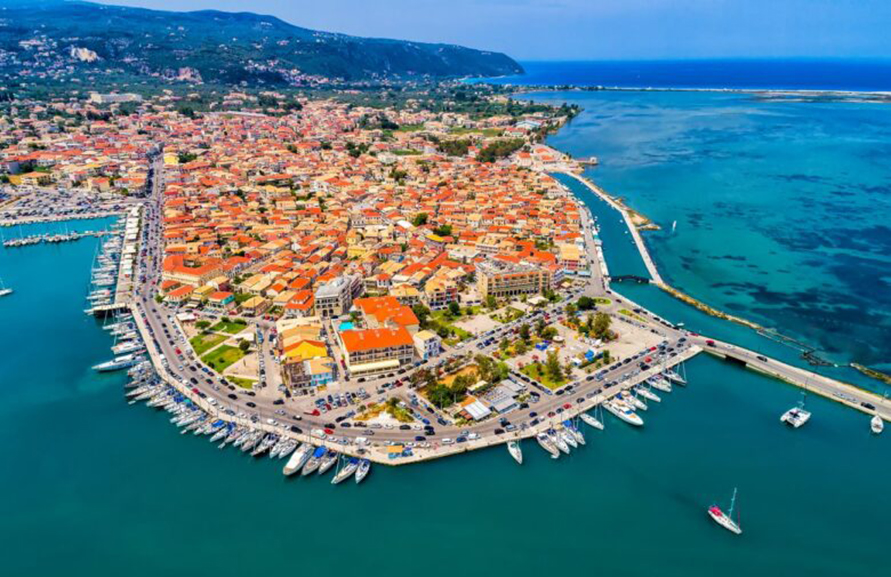 Lefkada Town is the capital located on the North side if the island. The capital is a small town that lies around a natural harbor. Lefkada Town offers various cafes, bars, shops and accommodations. Also provides small pedestrian alleys to walk around and explore the town and its architecture. You can also visit some of the museums found in the town like the Archeological Museum or the Folklore Museum.
Nidri is maybe the most popular village for tourists in Lefkas. It is located on the East side of the island in the middle so it is the perfect location as a starting point for your everyday excursions around the island.
Settled around a natural bay area the village provides a variety of all modern amenities for visitors such as taverns, bars, restaurants, cafes, tourist shops and accommodations.
The village has one of the busiest ports in Lefkas. There are ferry connections between other islands such as Ithaca, Kefallonia and Meganisi. Also there are a lot of tourist boats offering day cruises visiting beaches in Lefkas and Scorpios, the famous island of Aristotelis Onasis.
Lefkas being known for its stunning unique beaches, although true, has a lot more to offer with natural beauty, rich vegetation, wild landscapes and charming towns.
With easy access by car and a nearby airport makes it an uncomplicated destination for your holidays. With a plethora of activities and places to visit you will be entertained during your vacation.
With everything the island has to offer it is no mystery why Lefkas is one of the most popular destinations for summer vacations in Greece. For first time or returning visitors, it never disappoints.